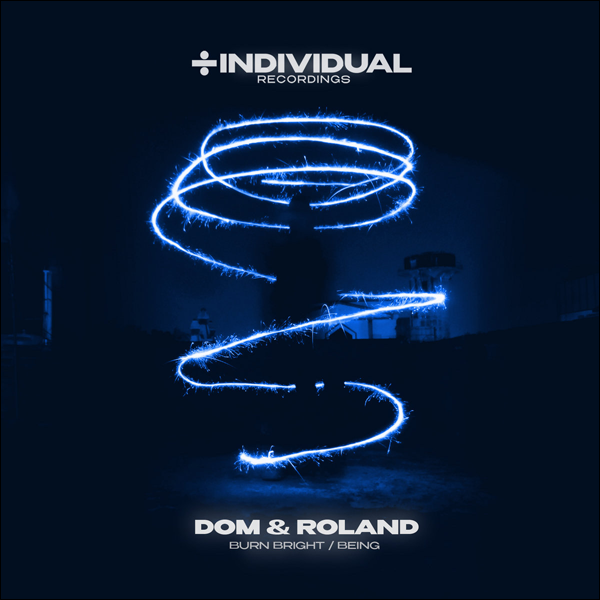 I don't know about the label. Is it: ÷ INDIVIDUAL RECORDINGS or DOM & ROLAND PRODUCTIONS? It's a bit unclear at the moment…
No worries, it is the one and only D + R. 2023 is a good year to be listening and the man keeps churning out tracks. "Burn Bright"? There's not much to say, it's how it is supposed to sound I guess, it is true-tech from the core. The bassline is shockingly compact. And it is flawless futuristic music, progressed so fast it over-took itself. Better than ever, it just sounds better. 25 yrs of perfecting – a sound.
Apart from that? OK. There's an "old school" feel-strings-stab that references house music (Inner City maybe), well built track this is. The dance floor is far and remote where I'm situated. It will not be played any time soon and I will not be dancing… Remember noting sounds like this. The programmed bassline pressure and the breaks are invincible, 25 years on, but you would know that? Right? Excellent track.
What about "Being"? It is a two-track EP after all? This would concern the details and nothing else. I've already stated that there's not a track released that doesn't meet the standard. "Being" is not an exception, I just don't like the saxophone at all and it reminds me of certain "funky" individuals. Is it not a good track? Don't be silly, it's Dom & Roland! It is a bubbly funk stomper.
Nevertheless my bet* is still on "Burn Bright"… delay is powerful and I'm playing it, again. On endless repeat… on any given day. The emotional response is unquantifiable.
* I never ever make bets… I trust the system; determinism. Don't care much for probability…