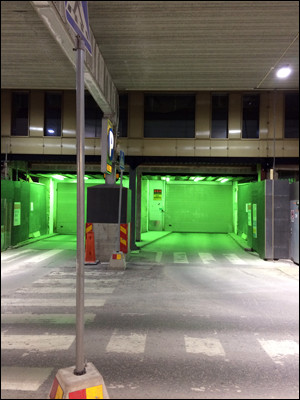 There are strange things going on in central city right now. They are reconstructing everything, yet it will look pretty much the same.
I've seldom seen as few people on a Saturday night ever (and it was not due to outside temperature). I actually started to wonder if I might have mistaken the day of the week or if I missed some national catastrophic/cataclysmic event – like for example the 50th round of Melodifestivalen trials or something of that magnitude.
It is truly surreal walking about in the absolute center of your own town and not seeing anybody else in the fairly early night (round' about midnight) on a Saturday.
Actually it is (still) utterly incomprehensible to me.
And once again, I am reminded of the fact that I'm seriously wrongly allocated as well as of my late father whom I'm mysteriously and gradually is being transformed into.
This "transformation" that is taking place as we speak is as unnerving as it is unsettling.
To view the side of the same building. Please see: La Cité V.