February 23rd, 2018
Comments off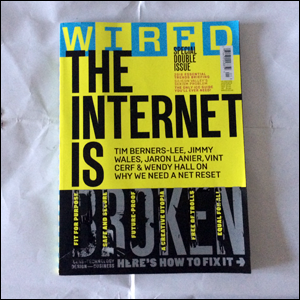 I recently acquired it (the magazine too).
Why? I already knew that/I thought the collection was complete. It turned out to be incomplete, catastrophic. Missing tracks from Funkstörung, "Viceversa". I searched the discs. They were not to be found.
Among the missing: the Jay-jay Johnson remix? Have I never heard it before? Then it must be ignorance. If it was indeed played to me. Doing it now.
Is that my very own hand? "And I just can't remember, last laugh in time… I want some fun, now."
Honestly? I don't really know what to say. That is the song.
Internet? It is still possibly the best idea ever in all of human history. It may not surpass printing, but it is very close to single-character-set printing.
Correlation? No, not really. They subjects are not related. I had something else in mind to begin with.
Is it a real artifact? It is a depiction of an actual physical object? Is it an actual picture of the cover of a magazine?
Am I confident that it is in fact a picture of the cover of a magazine? I am quite assured, I know for a fact tat it is indeed a picture of a cover of a magazine. As I'm confident that the copy I own is not unique and that I did take a photo of it in my kitchen.
But, then again you tell me if it is a fact or not? Added irony? The next generation scratched the answer from the cover. It can be fixed, so say Wired and I agree:
– Fit for purpose
– Safe and secure
– Future-proof
– A creative utopia
– Free of trolls
– Equal for all
Think about it. Hard. Is that going to happen? Well, I don't know, but I do know that I for one do not want/wish for a broken Internet.
It is not to late. This tool? Is the most powerful ever in the history of mankind. It has/will change the course of humanity. Let's guide this change. Yes/no?
– FIT FOR PURPOSE
– SAFE AND SECURE
– FUTURE-PROOF
– A CREATIVE UTOPIA
– FREE OF TROLLS
– EQUAL FOR ALL
Plz? Come on.