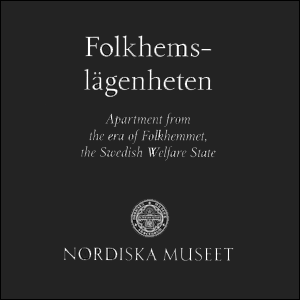 Folkhemmet
Folkhemmet, the Swedish Welfare State, is a term used by social democratic politician Per Albin Hansson to describe an equal society without class differences, characterised by mutual understanding.
In Folkhemmet's Sweden, everyone was entitled to decent housing.
The era of Folkhemmet was roughly between 1930 and 1965.
The housing situation in Sweden in the early 20th century
At the beginning of the 20th century, Sweden was a country with large class differences. Many people lived in small spaces in dark, old-fashioned apartments. The rent could be high. Having a lodger was common, even if the apartment did not have a separate living room or bedroom. Hygiene was a problem. Only having access to cold water and an outdoor privy made it difficult for people to keep themselves, their clothes and their homes clean.
Various initiatives were taken to improve the housing situation, including some non-profit housing foundations as well as the early own-your-own-home movement and later co-operative housing associations, such as HSB.
The 1930's saw the start of a social housing study, the aim being to chart the situation in Sweden and to produce guidelines for housing policy. After the Second World War, efforts were made by national and local authorities to tackle the housing shortage and improve standards. The goal was good housing at a reasonable cost for residents: a maximum of two people per room, excluding the kitchen. Rent should equate to around one-fifth of an industrial worker's pay.
The new apartments were built according to the Functionalist ideal presented at the Stockholm Expo in 1930 – ideally dual-perspective windows, and easy to clean without unnecessary edging on doors and cupboards. Great care was also taken with the fixtures and fittings.
Different studies were carried out to discover how a housewife used her workspace, the home. This is were Hemmens forskningsinstitut – literally The Household Research Institute – which was formed in 1944, played an important role.
The apartment from the era of Folkhemmet is produced by Nordiska museet 2013.