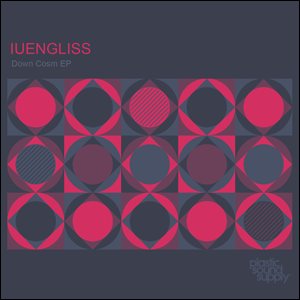 Iuengliss returns to the continually friendly Denver based 'Plastic Sound Supply' label with the excellent 'Down Cosm EP'. Iuengliss' debut album on the same label was entitled 'Blank Matter' and it was favorably received here at resurface.se.
The 'Down Cosm EP' has everything anyone could ever want from a follow-up. My favorite track is: 'Descent' and it is fourth in line. That said it is a very subjective thing and would be related to bass.
There are so many well executed ideas on this EP/LP/Album (the denomination is increasingly funny: LP (Long Play), EP (Extended Play) and Album are all related to vinyl, but what do they signify in our digital today? Oh, well that is another topic all together.)
The 'Down Cosm EP' is well-produced, contemporary, exciting and all-around interesting electronic music! I have great hopes for 2014 and I for one could not wish for a better start; Iuengliss 'Down Cosm EP' on Plastic Sound Supply.
And yes, I need to mention the equally excellent bonus remixes by: Scaffolding (Remix.) What can you say? Forest Cycle Baum (There's nothing wrong with being empowered by the Funcken Bros.) Oh my this is good! It is a fine line… Downfall (As broken as it is sweet.) We like it! And Rapid Eye (A proper remix.) is just excellent.
Preview and download at: Iuengliss, Down Cosm EP.
Visit Plastic Sound Supply.