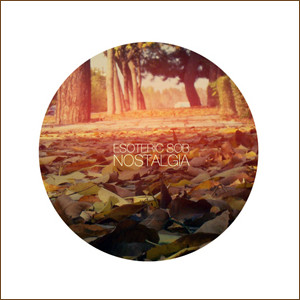 Time and promise… I imagine that I used to have more time and I've always tried not to make promises that I cannot keep. I did make a promise in this particular case and since I did do so I do have to honor that promise.
The artist 'Esoteric Sob' is known to me, like the excellent 'Abnormal Psychology' album from the Greek label 'From a Tree' is as excellent as it is overlooked and I should have written something about it then too.
'Nostalgia' on 33 Recordings is in short sublime and if you ever cared for 'electronica' or beautiful electronic music in general then you will like this album.
On to the actual album 'Nostalgia': the first track 'Hypnosis' is just that, hypnotic, warm and complex. More complexity follows in 'Lost in Time' and then a theme and it is just brilliant 'Memories', which is probably my favorite track on this album, a track that has everything.
However the main-titled 'Nostalgia' doesn't fall far behind and it is all non-vocal electronic music. You do get some vocals as well in 'Everyday Stories' and in the interlude track 'Speak to me'. The beats and production on 'Sweet melancholy' are better than I heard in a long time, and that is nothing but a treat!