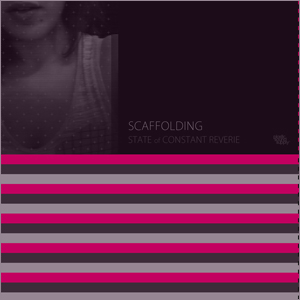 'State of Constant Reverie' is Plastic Sound Supply co-founder and contributing artist Scaffolding's ninth release for the friendly label. The EP stretches five tracks long and the obvious thing to point out would be the choice to cover the jazz standard and classic 'My Funny Valentine' a song that has already been covered numerous times since 1937 when it was first published by the American song-writing duo Richard Rodgers and Lorenz Hart.
The opening track 'Child' is a classic take on the warm-sounding non-vocal electronic music that has been written about here the past years and given that more than a decade has passed, it seems natural that the possible references are and would be numerous. What is equally apparent is the workmanship and beauty of the production. The exact same thing can be said about the second track called 'Light' that follows tightly upon 'Child'.
Tracks three to five are versions of 'My Funny Valentine', a track covered by among others: Chet Baker, Miles Davis, Frank Sinatra and Chaka Khan. The two first I can immediately relate too, the third I do know, but there's never been much spinning of ol' blue eyes' tracks in my life. Chaka Khan – well what do you know.
My suspicion towards covers has always been deep and generally I simply do not like them, however, in reality that is nothing less than a ridiculous statement… for one thing one of my all-time favourite tracks (if not my all-time favourite) is John Coltrane's take on 'My Favourite Things' and it is with out a doubt a cover. On top of that let's not forget the songs that I cherish now that I possibly do not even know are covers to begin with.
The original 'My Funny Valentine' version on this release made me think of something that Jamie Lidell and possibly Jimi Tenor were/are "experimenting" with as far as the vocal elements go. Choosing between the two remixes I will single out the CacheFlowe Remix simply because it is the one I prefer musically. David Last's remix is as competent and runs in a softer yet familiar house environment. They all underline the ingenious plan to include remixes in a release to begin with, at least if you like theme and variation.
At first I was concerned that a PSS release in 2014 would include a track that has (reportedly*) been previously released on 1300 albums and performed by over 600 artists. But, I guess that a good track is and will remain a good track and Scaffolding's 'State of Constant Reverie' take on a classic doesn't disappoint. The artwork and presentation a perfect match to this well executed release.
Preview and download at: Scaffolding, State of Constant Reverie EP.
Visit: Plastic Sound Supply.
* http://en.wikipedia.org/wiki/My_Funny_Valentine