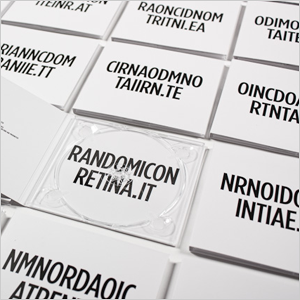 Largely based around self-manufactured modular synthesizers the fourth Retina.it album release sees the light of day or is it the darker inner workings of an ancient machine? Minimal, experimental in nature and decidedly techno 'Randomicon' is the second release on newly started Barcelona based FlatMate Music label.
In the spirit of randomness (which is supposedly harder to create than one would maybe first be tempted to assume, mathematical randomness that is) this 500 piece CD-release will feature as many different digipak covers (500 unique covers). All based on a combination of characters found in the original album title and artist name; a very nice touch if I may say so.
'Randomicon' contains 11 tracks of well-produced and stripped-down techno music. A rough selection would have to include the up-tempo, chopped and menacing 'Equation for U', the very electro including subtle yet effective distortion on 'Rotating Solutions' and the nervousness of 'Gamma Repeater'.
Grab your physical copy right now from Straight Distribution or wait until 2011-05-06 for the global digital download release available via dig dis!.