I Just Heard The Perfectly Timed Rewind Or "Wheel*"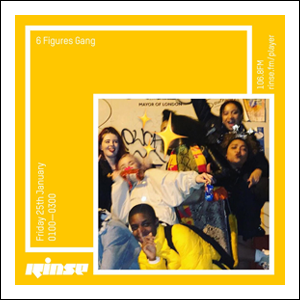 Yesterday, quite late at night in all naturality and courtesy of 6 Figures Gang on rinse.fm.
I heard the perfectly timed rewind**. How is that possible? In all actuality or technically it is not.
It was by pure coincidence and something that is not entirely inconceivable if you happen to listen to rinse.fm propagating from London.
Once again I was reminded of the (not only musical) impact Londionium has had on my entire life – and still has I might add.
– So, what is this thing? What is a perfectly timed rewind?

– Well, to begin with there is no such thing as a perfectly timed rewind.

– What?

– In all honesty it doesn't really make any sense at all.

– What do you mean?

– Well, you already know that it is a 'tune'. The rewind is made just so that those who are not "We Are The Music Makers" can climb aboard.

That's, not the entire truth though – what the rewind does is to reinforce the "tune" and far from every track gets rewinded.

But, every "Tune" that should, do get rewinded.

– I still don't understand.

– You do listen to the music right? Well, then you will know when a rewind is mandatory. It can be a classic track, but usually it is a new play.

– Why? Because, you listen and whenever you hear that, that something – the groundbreaking stuff… then it will become mandatory, maybe.

Mind you it is just simply a question of culture. It is made in order to separate those who know from those who don't. The 'tourists' from the rest if you will.

You can hear it, just a few bars in… and then you either know or you don't know.

That is where the rewind originates from.

However, always remember the most important aspect – it is really just about amusement/funniness!

There's absolutely no point in doing it, yet, it is vital and important.

As I said before it is all about: culture.

– Mm.

– Yes, I, ; )
* The expression is a new one, it makes perfect sense, but I'm old as dirt so it is still new to me: "WHEEL"!
** Right… it is to play the track backwards for a short will and then replay the exact same track.
There is yet another reference and I'm not sure if it is intentional or not but "Wheels of steel" is a reference to record players and specifically and not surprisingly the Technichs 1210 (there are several different models and generations).
Ironically, I'm confident that the turntable plate itself is made out of aluminum. It is milled from one solid piece and ingeniously serves as the rotor of a very powerful electric motor – it is the ultimate designed turntable and nothing will ever surpass it. Furthermore it is literately indestructible if handled correctly.
Please see: Make No Mistake.
@ rinse.fm.