It Was Not The One I Was Looking For?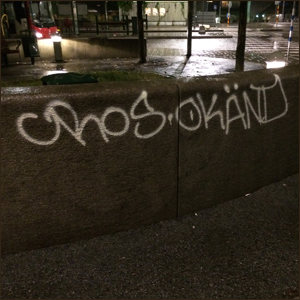 It will have to do for now. Actually it is one of my (many) favourite albums: If.Then.Else – (Pause) – Emanate Records – 2002.
I was looking for: Theorem – Ion – M_nus – 1999.
Why? Because I think it is partly based on samples from a nearby highway. That would be Detroit's I-75 highway to be exact.
And it ties ridiculously nicely to one of the previous posts: The Eternal Sound/Noise. Suspiciously nicely one could object. "You know? For kids?" (ref. "The Hudsucker Proxy", Cohen brothers, 1994).
No, seriously I was meaning to write "free association". The album? Wow, classic, classic stuff. It is a master piece. I am compelled to mention: Aril Brikha – Deeparture In Time – Transmat – 1999, Theorem – THX – Experiments In Synchronicity – M_nus – 2001 and The Persuader – Stockholm – Svek – 1999.
Because it is like that, that deep, deep techno music. The kind that the brothers from Detroit make.
"Det var bättre förr, så har det alltid varit."
Picture: It is close to the E4 highway. I normally don't, but I do really like this one. It is very amusing.