Klarakvarteren?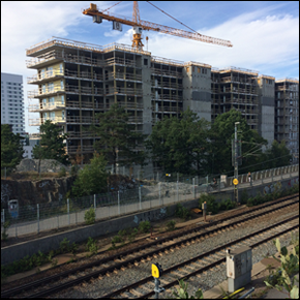 How is this possible? It hurts to look at it. Who/m took this decision? It may be the worst decision in Stockholm's entire history?
No, it is the worst decison ever. Depriving +35000 people from a view. Is this really happemimg?
Toplogy? There is nothing higher, apart from Högdalstoppen? A yes, not if you are looking from North to South… a question of perspective? Shame on you.
Tessin (I think) wanted to demolish the entire "Gamla stan" and remodel it a la Paris (not a bad idea actually).
"Södra station, Globen, Hammarbysjöstad, Sickla and Skarpnäck (it used to an airfield)" are truly poor examples of architecture/urban planing. Module/lego buildings and so poorly built. Will they even stand 25 years? And now this? Liljeholmskajen?
My guess is that there are not that many architects involved to begin with. I mean who would let an engineer design something to begin with? Buildings are rather big things?
Poor you.
If you live in paradise? In the World. You would not or should not destroy it?
Look at it! Look at the disaster! Stadsarkitekt, skönhetsrådet or anyone… you are destroying the city, my city our city. It may look acceptable from the other side. From the inner-city? Have you set foot on the "other side"?. An impossible missplaced building. It could have been 400 meterers tall. "It doesn't matter it so close to the railway."
I have never ever seen anything like it. I don't understand it. Is there an idea, a theory behind this building? Is it a shield against noise emerging from the rail tracks and bridges? What is the building? Is it anything? It is clad in white and grey shiny stuff?
I do know one thing. It is a catastrophe. It may be the worst building ever, actually I believe that it is the worst building in Stockholm though out history.
"Alla kan tralla" What do you mean? These are constructions that must have been orchestrated by the Dark Lord himself. And I am not an architect. I am an citizen. I knew (before it was built, why? I take an interest, I care…) the end result? This surely must be the most misplaced building in my country's history.
No, it is the most unsuccessful building of all time. How? The view from that building? It is surpassed by any other building in Stockholm. You will not get a better view ever. In Stockholm? It is priceless.
The Rastas' say. "Straight is the road to destruction.", "A true Rastaman…".
I'm just trying to find the responsible… again look at the photo. Sun used to set there. I could look in to infinity… it is unacceptable. Babylon. The view from the 14th floor in the new building?
This is my home. I have lived here my life. Liljeholmskajen? So, now I can't see Årstaviken?
It is too late again.
You say: "Vamp A Dub" and I say: "Tedious". Lee "Scratch" Perry says both!