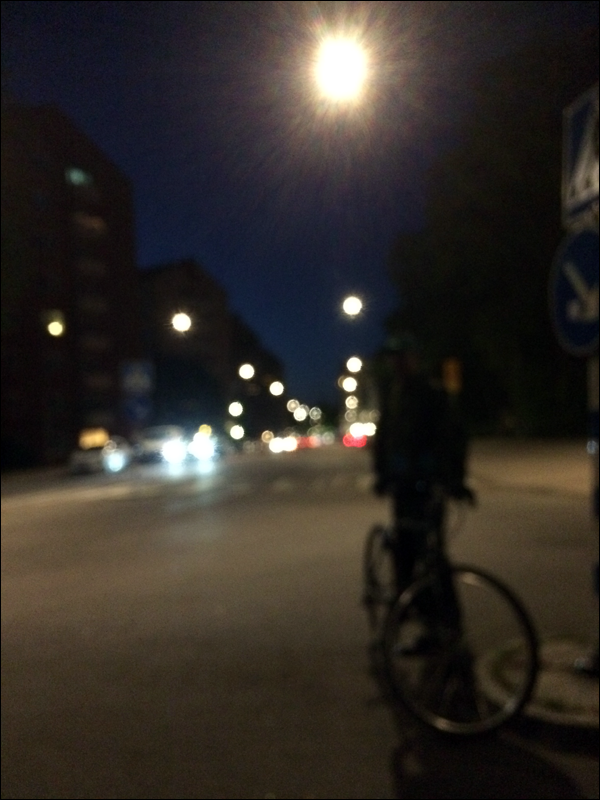 Inital estimation? SKHLM (Skärholmen and return) it must be closer than Täby?
Diska Lugnare! = Calmer Washing Up (a late nigth advice. – Your washing up needs to be calmer). It is not possible to translate it properly from Swedish to English. Du måste diska lugnare! But it makes perfect sense and most I know would understand exactly what it means eventought they've never heard it before (like me).
AR? = "Adidasryttare"? It is the exact same thing. It makes perfect sense the moment you hear it. "Ryttare" means rider (as on a horse, bike or motorcycle). "Adidas" doesn't need explaining. Adidas Rider… if you know you know. It makes perfect sense to me and I think that I understand the reference… and above all it is amusing, it is funny!
DR? = Decisive Riding. That's how I ride my bike.
Ride hard, break hard and always carry speed.
The break pads are leaving dust and they wear down… no breaks*.
RR? = Ruff Riders.
DB? = If you know.
ED? = Electronic Desert.
PR? = Pattern Recognition.
Minus RB? That would be Rad Brad = All the things you should not do (for example don't ride your bike straight into the woods without actually knowing anything about the terrain, just in order to realise that you narrowly missed a deep pit filled with large rocks on your way into the woods…). Less than 0,5 meters from a guranteed extremely painful and quite dangerous experience in a deep rock filled pit.
The photo was taken by anonymos person on the street. Many thanks anonymous person!
* GOOGLE TRANSLATE
==================
You Roll In Speed ​​Down The Götgatsbacken Without Brakes
You speed up the crest and then you come on… no brake. 25 meters down there would normally not have been a problem … but without brakes, there could be problems at the crossing.
It is 25 meters to the pedestrian crossing? Do we cycle into: the pancomat, the wall or should we put the bike to a stop?
I look her straight in the eye and it's 15 meters left? Will it be right or left? RR that would be double R. Will it be? 5 meters left. Brakes full (almost nothing happens). She doesn't understand. None of those around her understand. It's going too fast. It gets right. It's less than a meter but I'm pretty sure I can fit and I actually have no brake.
"- I have no brakes!" They are laughing. Oh, well, it was as close to the Southern Hospital as you can get.
"- Are you sure?" Why then, why it?
Or? Should we be maneuvering, complicating ourselves at maximum speed, just like on Hornsgatan? Over the crest; The Hornsgutter puck* you charge, pedaling at high speed, upshift there and Liljeholmsbacken and down Årstabron (not LIljeholmsbron it is scarringly uneven and crowded).
In the intersection Ringvägen / Hornsgatan, there's no way you can stop (in a timely fashion even if you wanted to) and if someone would run the light? It would become problematic.
"- Loco!" As you roll at speed and cycle around the cars, through the intersections, the package buses / work cars and fly over the white ribbons.
"- What is going on?"
"- What's the matter?"
De é SoSo.
You are crazy! ; ). With a smile, Latinos said, I cycled on and on, fastest of all through the next intersection on Hornsgatan.
It should go fast! For the little black bear and me.
"- You have to be careful!"
I'm careful.
* The picture is not from Götgötgatsbacken but it is taken right near Hornsgatspuckeln.
==================
Unfantomadly bad/incorrect translation but even the sun has spots I guess…