aAirial, Together EP, [Imaginary Nonexistent Records – INR016CDR, 2011]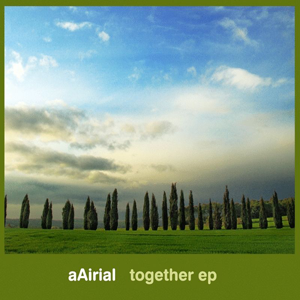 'Together EP' is aAirial's debut release on Imaginary Nonexistent Records. The previous output includes "Le fil du temps" and "Incoercible" on the net labels Laridae respectively Breathe, not forgetting his contribution to the 'Intelligent Toys 6' compilation on Lithuania's Sutemos label. The 'Together EP' is comprised by six delicate tracks filled with largely piano based ambient bass rich lushness.
In complete and utter unfairness to the rest of the tracks I'm going to single out 'Like a Summer Evening…' and 'Piano Impro #2' as my favourites, the first because of it's solitary piano, imposing warm strings and possibly its title, since the snow is currently falling… the second for the same reason as the firstly named quality of the first to be singled out.
This EP as a whole has some definite cinematic qualities; it's deeply melancholic and indeed exceedingly beautiful, music that is thoroughly enjoyable. In short aAirial adds another fine release to the Imaginary Nonexistent Records catalogue. Download or CDR is available at the inrecs website.