Art Exhibition : Real Time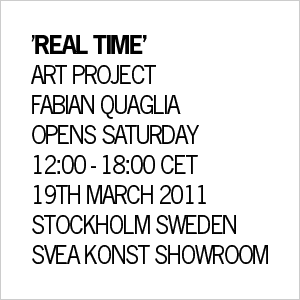 This Saturday, 19-03-2011 you can visit the opening of the 'Real Time' art project at the Svea Konst Showroom.
An exhibition displaying the work of Stockholm based painter Fabian Quaglia.
The main technique used is airbrush, but enjoying the freedom of mixing techniques and tools his work include digital 3D-models, animation and graphics as well as sculpturing and fabrication.
Take the opportunity to view some work by this talented painter.
Svea Showroom International Art Gallery
Skeppargatan 22, Stockholm, Sweden.
Temporal: 12.00-18.00 CET