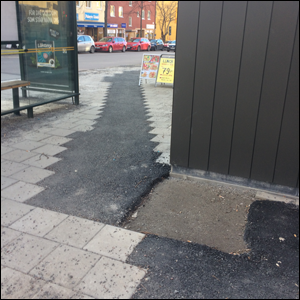 One generation to see it born and lost.
There could be many, from the 40's (possible), the 50's (maybe) the 60's (not impossible), the 70's (surely), 80's (impossible) and the 90's (they may very well be the most dangerous generation of humans ever).
What does it all mean?
Well, we have had jazz, true hip-hop, electronics and 200 years of classical music and if that was your flavour US, Germany and UK or 14:th century music?
We had a functioning society. You know civilised behaviour, common rules, codex, morals, culture and craftsmanship?
Does this look like professional work to you? Does it look like something that you would pay for? Well, if you are living it you are paying for it. That is your money. No, that's true I don't really know that much about actual road work, however it still does not look very professional to me.
Aside a public toilet that has been in construction for a year or so (it will probably never be functioning and that is a good thing), alongside a restaurant of sorts… If you ever wonder where/what your taxation is funding…
Taxation on work has doubled in comparison to that of capital the last 20 years in Sweden, that may have been a great strategy in the 60's, 70's and 80's… but in the 10's? You may want ask yourself how much tax do automata really pay?