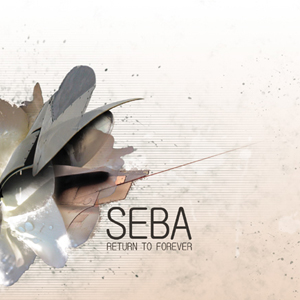 It is completed and ready for release (AUG2008) "Return To Forever" is the long awaited debut album by the prolific drum'n'bass producer known as Seba. After a long string of twelve-inch releases on various labels his discography contains labels known and respected all over the World including his very own Secret Operations.
In short the time has come to add another chapter to Seba's musical journey. "External Reality" in its album version displays to the fullest the level of beats programming expertise held by Seba. The deep, heavy bass and heavenly beats are the perfect starting point for the "Return to Forever" album.
The jazzy and mellow "Silicone" is an excellent way to bridge the rougher beats of the opening track and the bitter sweet sounding and equally creatively rollin' "Blaze and Fadeout" featuring the vocal talents of singer/producer Krister Linder" As Long As It Takes" suave, exact and crisp beats makes the rollin' selection on any floor with ease and the massive bassline is silver-lined with another vocal talent namely Robert Manos'.
"Breaks Selection JD-remix" brings more tempo as well as presenting another collaborative effort that definitively has stood the test of time. It is a bass heavy track and an odyssey of sorts into the wonderland known as breaks and beats. "Special Ops" simply put is the testament of just how far you can progress with a good selection of beats, programming skills, a solid bassline and enough musicality to carry it all the way through.
Past the half way mark through the "Return To Forever" album encounter "Forever" and the title says it all really, classic selection of Seba's breaks at their best, fast paced and complex like you love them. A track with as much forward movement as its has history. Then follows "Day by Night" and what a stormer it is a no nonsense bassline with enough finesse to fit the daily commuter's taste and needs as well as any of the Globe's buzzing open minded dance floors. And people let us not forget the break… and as the relentless bassline of "Day by Night" fades away, let "Tomorrow" enter, marking yet a subtle change in musical mood. The crystalline sound constructions, the percussions added for musical body, the abundant rhythmic complexity, the bassline with weight and the crucial breaks for spaciousness and yes, vocals are included! The final and last track is "Crockett" and it can be seen as the sonic picture of the end of a long day's journey, relaxed yet still observant and eager to make new findings the coming day.
"Return To Forever" is not merely 10 or so drum'n'bass twelve-inch single this-sides stacked on top of each other, it is an album containing 10 tracks intertwined and fused into a unity. All of these tracks are in their own way firmly rooted in dance music, all of them are drum'n'bass tracks and all of them are firmly aimed at the dance floor in one way or the other. Let us all Return To Forever guided by Seba!