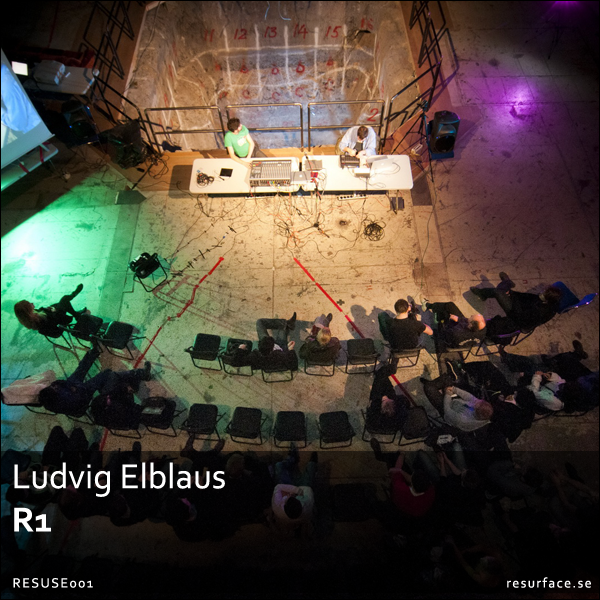 R1 is a live-set by Ludvig Elblaus and it was recorded in 2010-12-03 at R1. The venue R1 (Reaktor 1) used to house the very first Swedish nuclear reactor and it is situated 20 meters below the ground in the firm bedrock under the vast KTH Royal Institute of Technology in Stockholm. The venue is spectacular to say the least and so is the Ludvig Elblaus R1 live-set!
During the years that have passed since the album debut Flannel Poet in 2003, 2004's critically acclaimed New Speak EP Furious Styles and the sadly delayed 2006 Electronic Desert Recordings' Trials album, Ludvig has been busy exploring and deepening his understanding of the core of music making and that is meant to be understood in a literal, actual and very precise sense.
And as would have been expected the elements that used to be somewhat unconventional in his previous musical output have now become refined, amplified and finalised in a sense. There are carefully crafted soundscape and drones, pure sound construction, that is was what comes in mind, but also the freedom obtained of breaking loose from preconceived formats such as album etc. in other words the directness of the live setting. The space that sound naturally occupy as well as the necessary reminder that music is very much a physical thing as well as a spiritual one.
R1's 22 minutes and 16 seconds say it all really…
The live-set also spawned the idea of branching out the activities of resurface to incorporate contemporary music as download in combination with the texts. Consequently R1 is available as a 320VBR MP3 ZIP file with artwork for download here at: resurface.se.
The cover photo was taken by Axel Hammarbäck and is used with kind permission by the photographer.
This is RESUSE001 enjoy!