A Catastrophic Hardware Failure, Again?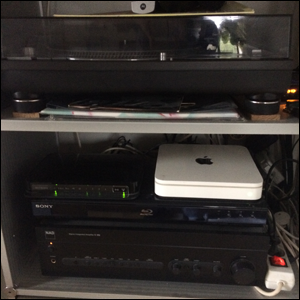 Another catastrophic hardware failure?
That is enough to freak me out. It is a good thing I have spear parts. It is a good thing for me that I collect things. I can fetch a spare from the big box in the cupboard.
And get up and running.
I have three routers, the second router's power unit reached its service window. It terminated the whole thing. It serves every wireless thing in our home. Including my TimeMachine with an IP. If it is is down… I can't reach my music collection. Well, I could I have a triple hard back-up on that one.
" – I ask Jr. Do you have a connection?"
Jr. replies: "- Yes, I'm OK. But, I'm on Ethernet, so I have no worries."
My whole Wi-Fi set-up broke down… sure I can, and I did use a cable. And I have other routers, setting them up correctly (or in a way that I want to. I have three… there is nothing automagic about them…) Setting them up is is a nightmare.
Hours later… "- So, it looks like it is working now? I'm going to bed. I'll see you tomorrow."
: )
What the… I love that confidence. "I got Ethernet." Of course I told him, I fixed the first connection…. wire will be faster… for now.
Hardware is not made to last. Then and again I can turn everything off at anytime. I can turn the fridge off. I can turn everything off.
Do you understand how the machines work? Are you interested in the subject at all?
Technology/life is not a question of personal entertainment? That is a second: "Catastrophic Hardware Failure."
No, the whole concept seems wrong to me.
Do you really think that your entire life is a question about your own personal pleasure? How, could that be? Hm, so either you are a queen. king or deity? Well, probably you are not. Most likely you are a human being. Like me. If you are indeed a celestial being? Then I would very much like to meet you.
It seems like a massive misunderstanding to me.
My: NAD C 352 (amplifier), SL-1201MK2 (record player), my Netgear (salvaged 300Mbits router, someone troug it away like trash. I've got 100/100 Mbits…), my 1TB TimeMachine, my old very old Macbook and all the other bits and piceces, last but not least my speakers… Ikon 1, Dali and my headphones… Sony MDR-XB950BT.
They are the best headphones I have ever owned. The others suffered technical issues. My TDK 240 and my Shure?
Honestly? It may be controversial- The inbuilt amplifer? That is what I need and that is what I want to hear. "Fidelity"? No, it has nothing to do with that. It just "sounds" so much better.