March 20th, 2020
Comments off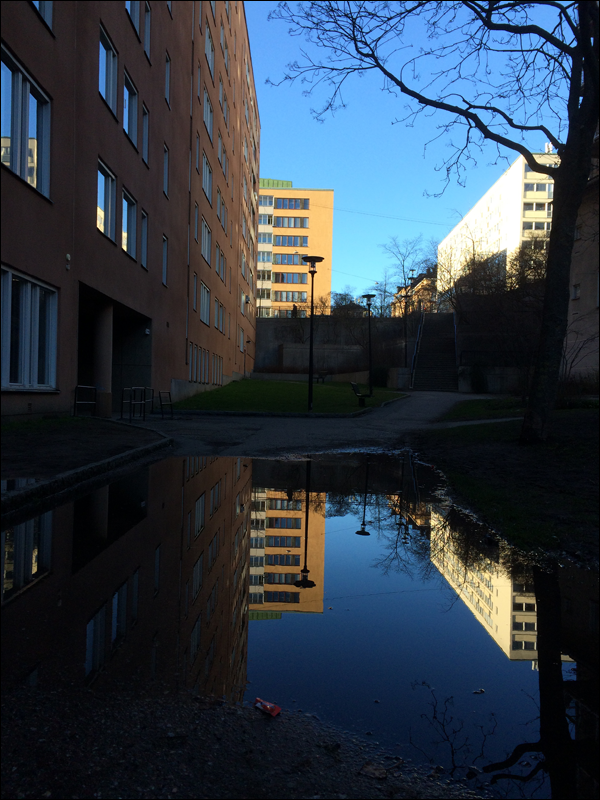 Du tar krönet i fart och sen kommer du på… ingen broms. 25 meter nedför? Det är rätt brant men det hade normalt sett inte varit ett problem… med eller utan bromsar, så blir det bli problem vid övergångsstället.
Det är 25 meter kvar till övergångsstället? Cyklar vi in i: pankomaten, väggen eller ska vi lägga cykeln för att stanna i tid?
Jag ser henne rakt i ögonen och det är 15 meter kvar? Blir det höger eller vänster? RR that would be double R. Blir det? 5 meter kvar. Bromsar fullt (nära nog ingenting händer). Hon förstår inte. Ingen av dem runt omkring henne förstår. Det går för fort. Det blir höger. Det är mindre än en meter men jag är rätt säker på att jag får plats och jag har faktiskt ingen broms.
"- Jag har inga bromsar!" De skrattar. Oj oj, det var så nära Södersjukhuset man kan komma.
"- Är du säker?" Varför då, varför det?
Eller? Ska vi manövrera, krångla oss fram i maxfart, precis som på Hornsgatan? Över krönet; Hornsgatspuckeln* du laddar, trampar med hög hastighet. Korsningen Ringvägen/Hornsgatan, du kan inte stanna där och om någon kör ut, då är det kört för dig.
"- Loco!" När man rullar i fart och cyklar om bilarna, genom korsningarna, paketbussarna/jobbarbilarna och flyger över de vita banden.
"- Vad är det som pågår?"
"- Va e' det som hender?"
De e' SoSo.
Du är galen! ; ). Med ett leende sa Latinos, jag cyklade om och vidare, fortast av alla genom nästa korsning på Hornsgatan.
Fort ska det gå! För lilla svarta björnen och jag.
"- Du måste vara försiktigt!"
Jag är försiktig.
* Bilden är inte från Götgötgatsbacken men den är tagen rätt nära Hornsgatspuckeln.