January 29th, 2019
Comments off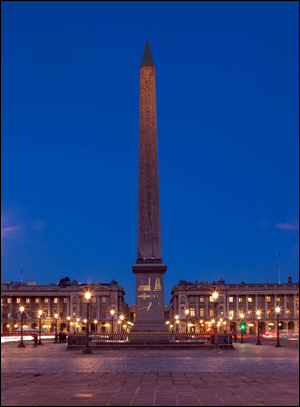 Obélisque de Louxor.
The Place de la Concorde (French pronunciation: ​[plas də la kɔ̃kɔʁd]) is one of the major public squares in Paris, France.

Measuring 7.6 hectares (19 acres) in area, it is the largest square in the French capital.

It is located in the city's eighth arrondissement, at the eastern end of the Champs-Élysées.

It was the site of many notable public executions during the French Revolution.

The Luxor Obelisk (French: Obélisque de Louxor) from Ancient Egyptian is made of yellow granite, rising 23 meters (75 ft) high, including the base, and weighs over 250 tonnes and is standing at the center of the Place de la Concorde in Paris, France.

It was originally located at the entrance to the Luxor Temple, in Egypt. It was classified as a historical monument in 1936.
Please see: La Cité.