January 24th, 2018
Comments off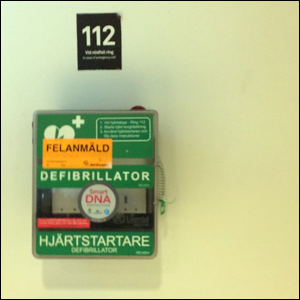 The actual defibrillator seems to missing.
There's a hand-written comment on the "FELANMÄLD" note that reads: "Tom sedan september" (I am assuming the month of September last year, that would be 2017).
If the comment is indeed true and if it is currently January 2018 that would make give or take five months without a: "hjärtstartare".
At T-Centralen (Central Station) in Stockholm, Sweden, on the upper floor.
The ATM a foot away (to the left in the picture, but out of the shot) seemed to be in full working order though.