August 5th, 2011
Comments off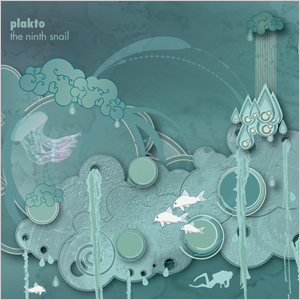 The Swedish based net label El-Ljud tenth release was Plakto's 'The Ninth Snail' and it preceded the excellent thirteenth release 'Soul'd Out' by the same artist.
The categorisation is solid E-dub, excellent production and plenty of bass to go around. The 8 tracks on 'The Ninth Snail' are a treat and there's enough complexity for a truly enjoyable and recurring listen. Did I mention the ample amounts of bass, fused with the exact amount of glitch and echo?
'The Ninth Snail' starts off exactly like described above; 'Western Flab' has a hypnotic bassline and excellent melody. In short a great track. 'Misplaced Mom' and 'The Reset Chair' are somewhat dubbier in nature, in the classical sense; 'Artificial Cherry' is short but sweet, whereas 'Hypnotoad' and 'Satanic Cat Standard' combine the bass content with some definite techno treatment. To summarise the 8 tracks on 'The Ninth Snail' all leave you feeling warm inside and wanting to play them again.
It is an excellent album and the workmanship of a truly talented producer. 'The Ninth Snail' and 13 other interesting releases are available as download on the El-Ljud website. Get them now!