Ascenseur Pour L'échafaud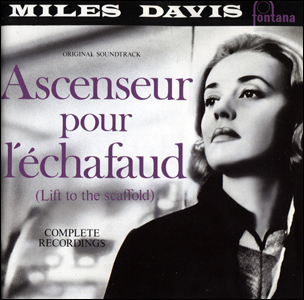 "[La vie c'est une…] modification perpétuelle."
Jeanne Moreau, (1928–2017)
"Ascenseur Pour L'échafaud" (Elevator to the Gallows, 1958) is the title of French film director Louis Malle's debut and it stars the quintessentially French actress Jeanne Moreau.
She was or is the very definition of what it means to be refined, dignified and civilised.
Even though it may have been Louise Malle's debut film, it certainly was not Moreau's, she made her film debut in the 1949's "Dernier Amour" (Last Love).
In 1958 she was already an highly respected female actor, whereas Malle was a mere try-out male director and after all this was his debut.
The film was screened in Sweden 1959 with the title: "Farliga Fruar", it actually translates into "Dangerous Wives". That is quite a leap if you ask me. I mean from the original title? From "Last Love" to "Dangerous Wives"? Even the West German title was: "Letzte Liebe"?
It is a well known fact that I know very little of the German language, but I do know that "Letzte" does not mean "dangeurous" and "Liebe" does most certainelty does not mean "wife".
"Dernier", "Last", "Sista" and "Letzte"? Well, since I have one maturnal language (Swedish) I can't tell for sure. I have an idea though. The written and the spoken language. My entire argument fell apart… Dernier/récemment, sista/senaste, last/latest and no I'm not going to misuse the language (German) like that.
However, it all makes me wonder: maybe, just maybe context play is part after all? And no, I have never been married.
I haven't seen that many of Jeanne Moreau's pictures, but I indent to do so. However, it would be impossible for me to write this text and omit "Nikita" by Luc Besson from 1990. Why is that? Mm, yes, why is that impossible exactly?
Finally: The soundtrack to "Ascenseur Pour L'échafaud" was written by Miles Davis.
Summary: Jeanne Moreau, Paris, Film Noir, Louis Malle, Miles Davis and 1958. I any conceivable universe can it possibly become cooler than that? The answer is no, it is in fact as cool as it ever gets.
Hommage.
Info: IMDb.
Picture: scanned cover of a CD from my collection. I originally bought the copy to my father (it is an excellent soundtrack I might add).
According to Wikipedia: "It was released as 'Elevator to the Gallows' in the United States, where it was also released as 'Frantic', and as 'Lift to the Scaffold' in the United Kingdom. Wikipedia.org. Europe that is where I live.
I recall a film made by Roman Polanski that is called "Frantic", it is from from 1988. Another time maybe?
Support: Wikipedia.org. There is no such thing as free in our World…